Please see the flyers below for the modified Face Coverings Policy approved by our school board.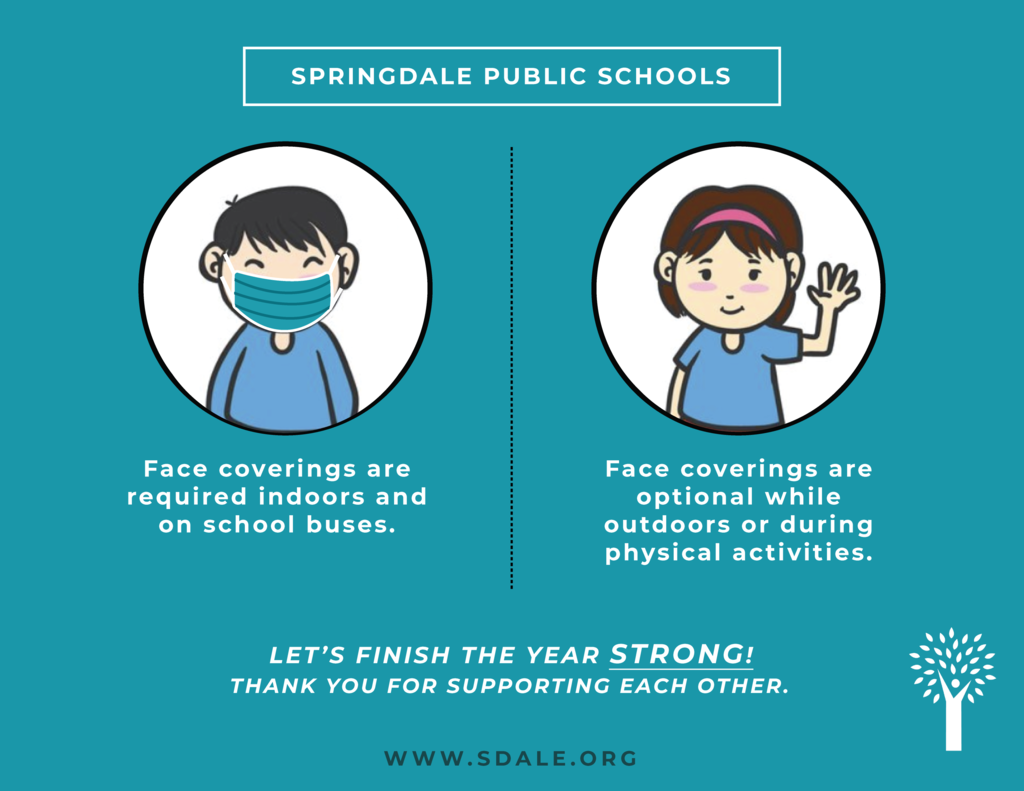 Class Pictures are this Friday, April 16th - due to Covid restrictions pictures will be taken with masks on. Forms will be coming home to order pictures. Las fotos de la clase son este viernes 16 de abril; debido a las restricciones de Covid, las fotos se tomarán con máscaras. Los formularios llegarán a casa para pedir fotografías.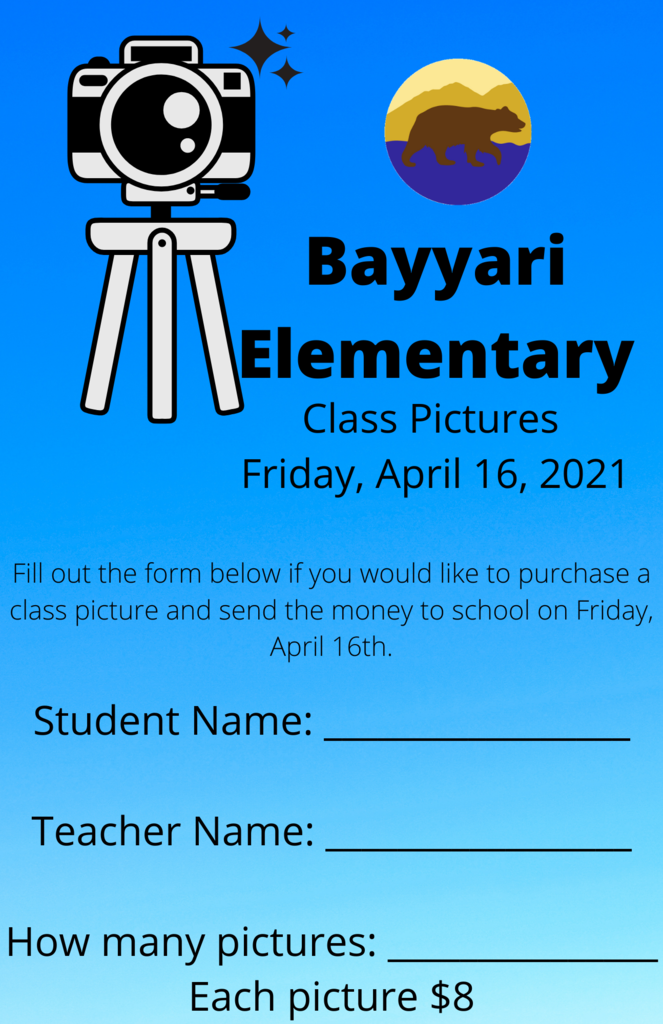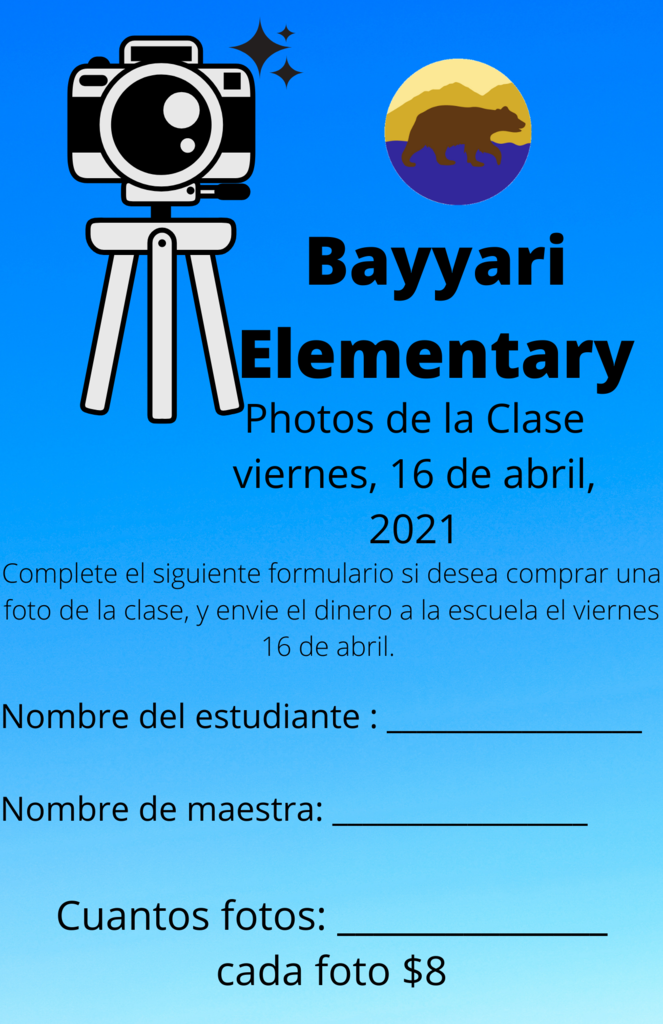 Save the Date! If you are rezoned for Bayyari, we cannot wait to welcome you. Come check out our school and meet us. Tomorrow night from 4:30-5:30 pm.
This week is our Be Here, On Time Challenge Week! All K-5 students who are at school all 5 days on time will get a reward for their attendance. Our doors open at 7:20 am and school starts promptly at 7:45 am.
UAMS is excited to share information about a new grant program. Fatherhood FIRE is a free program offered in English, Spanish and Marshallese that provides a support system of positive relationship classes, employment planning and case management to meet individual family needs. Our goal is to support families to be happy and healthy. We will be providing this program for the next 4.5 years. The link below is for the Fatherhood FIRE survey in all 3 languages.
https://base.uams.edu/redcap/surveys/?s=88X9DWYPYW
For more information, you can visit the Fatherhood website.
https://nwa.uams.edu/chr/fatherhood/
Arkansas Drug Take Back Day is April 24th. Local drop off spots are Springdale Police Dept. at 201 Spring St and Lowell Pharmacy at 114 Harrison Ave.
Here is the lunch menu for April!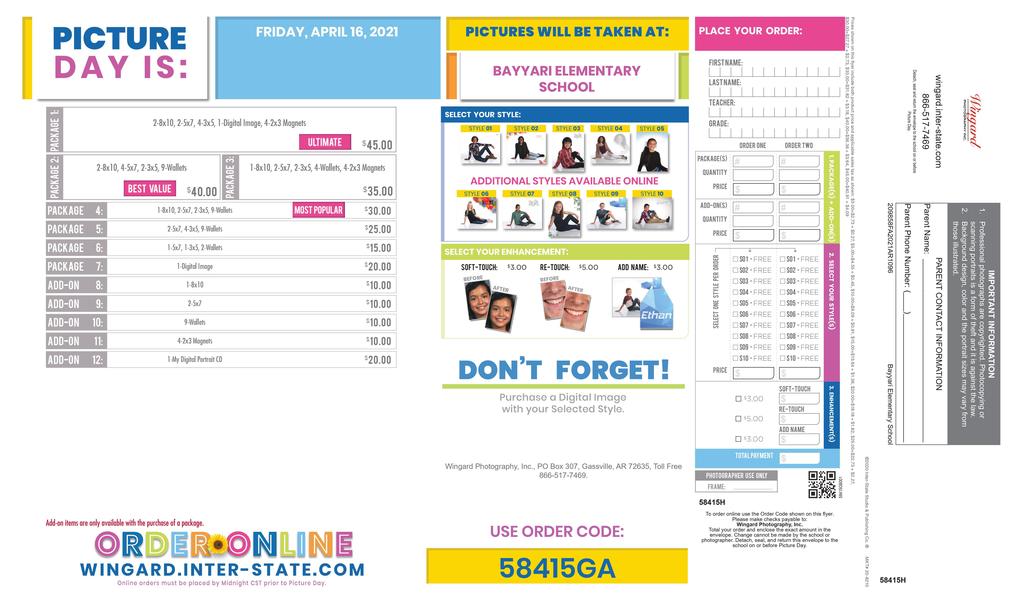 Snack Day is Tomorrow!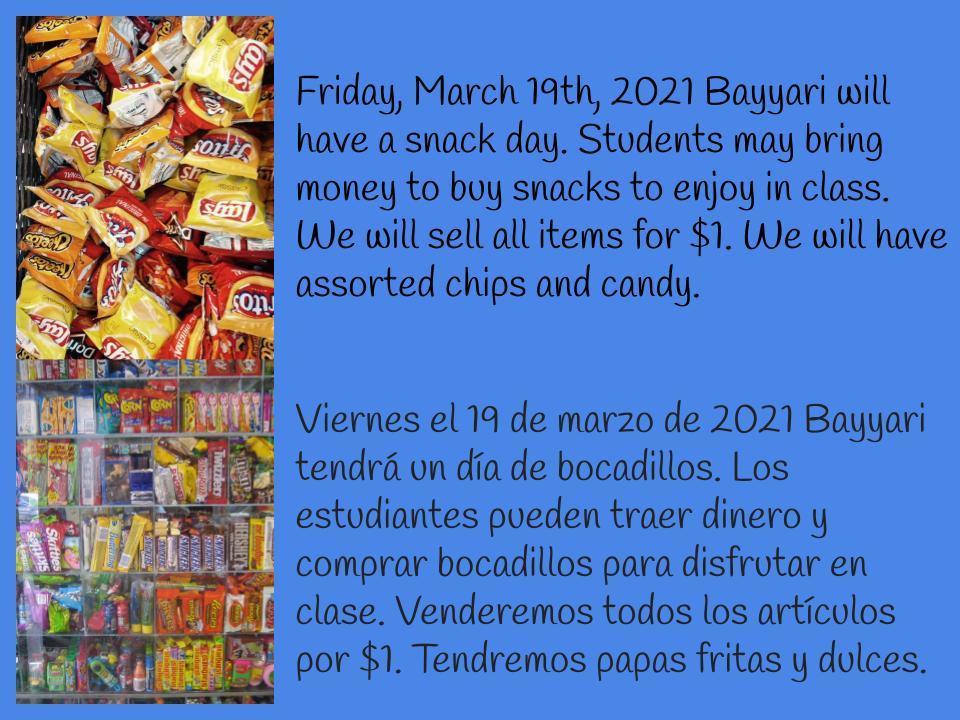 Today is Food Bank Give Away Day!

Just a friendly reminder to set your clocks an hour ahead on Saturday night for Daylight Savings Time.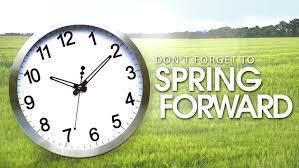 This week is Read Across America Week. Let's celebrate by dressing up each day.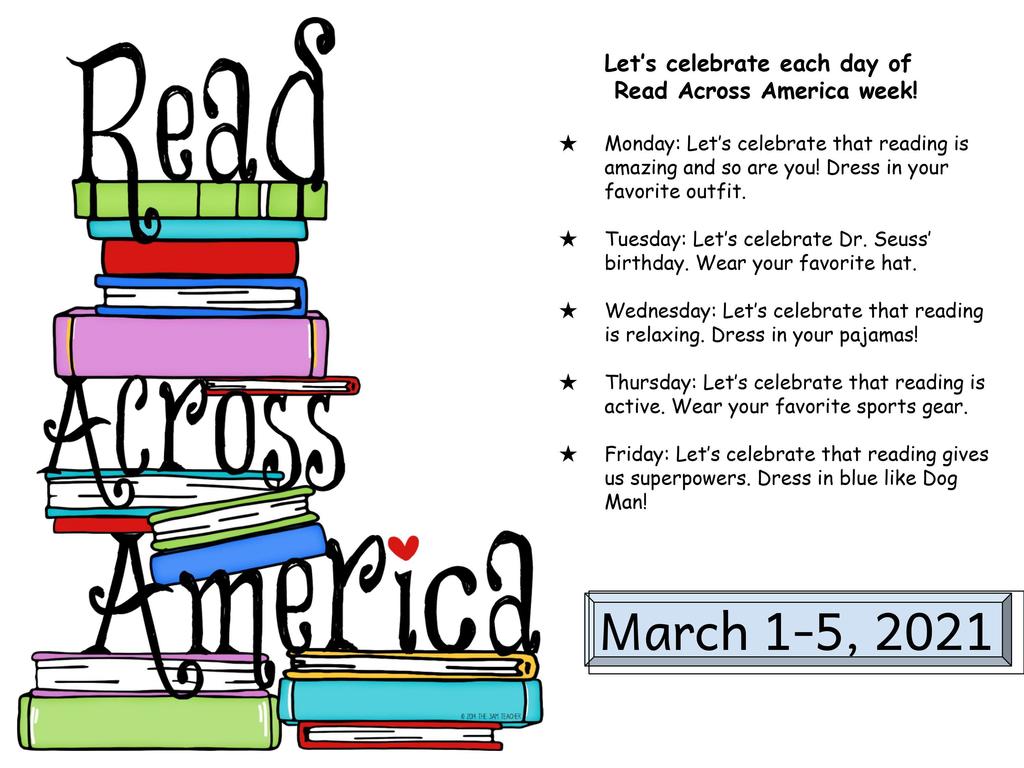 Please see attached flyers for Pre-K registration information for next school year.
The Arkansas Hunger Alliance is offering a bilingual virtual Cooking Matters class in Spanish! The classes are free online and come with a $10 gift card per session (up to $60 if they attend all sessions) for participants who are parents or caregivers for children ages 0-5. They are offered March 5 to April 10 on Fridays from 6-6:30 pm or on Saturdays from 12 – 12:30 pm. Registration is available at
http://bit.ly/RegistrarParaCM
Participants simply fill out that google form with a valid email.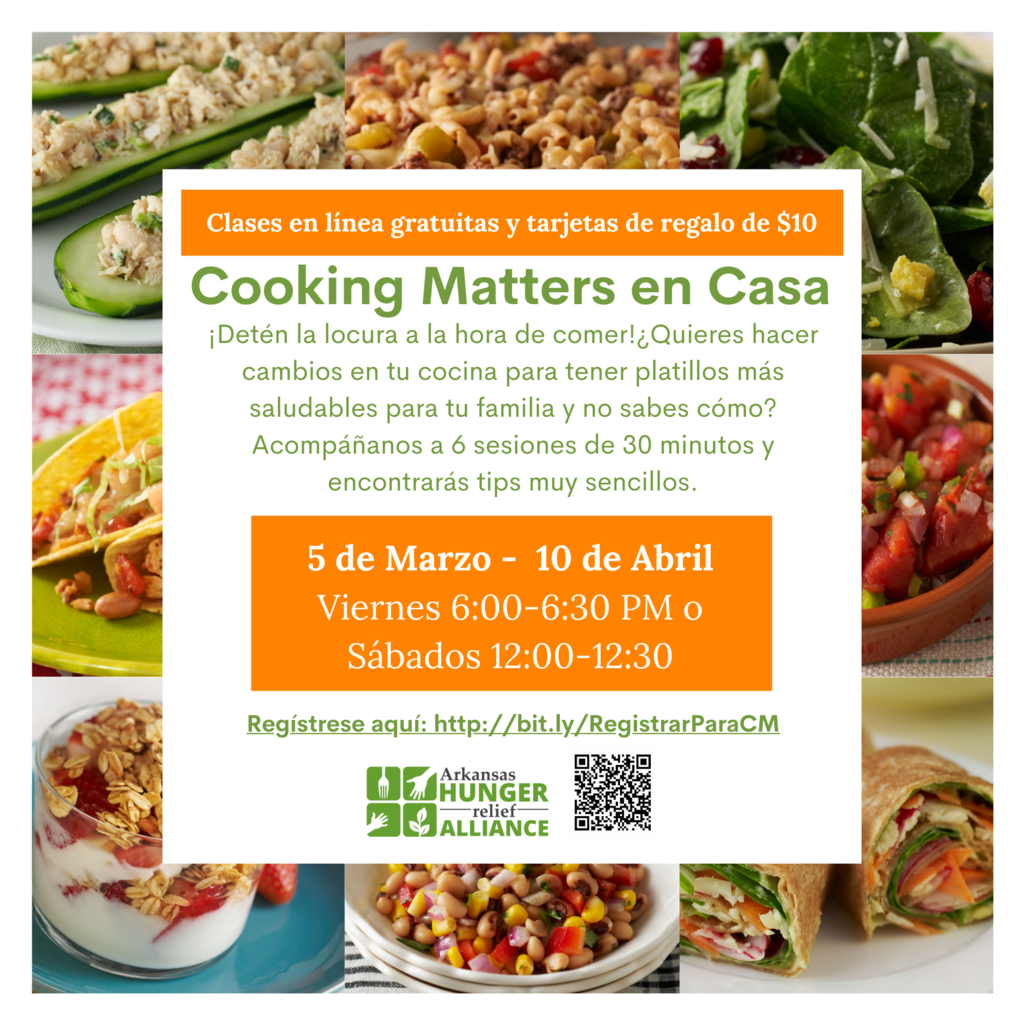 Our remote work days pushed our lunch menu back a week. Here is an updated menu for March. Tomorrow's lunch will be: Sloppy Joe Baked Beans Pineapple Tidbits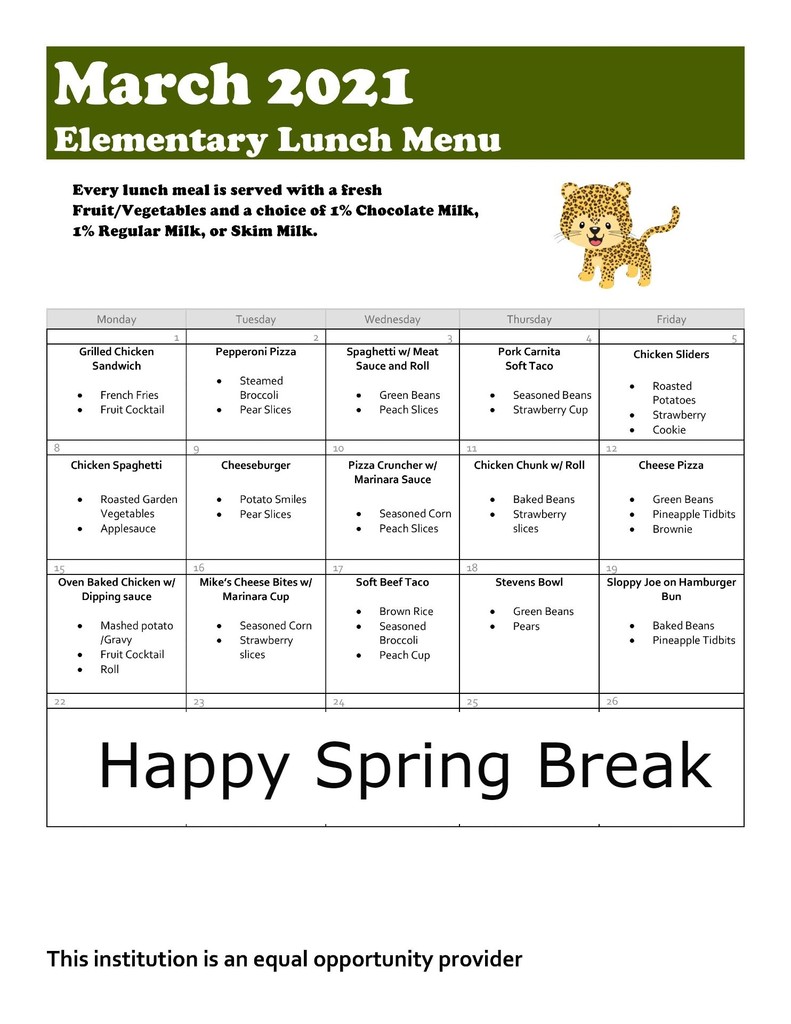 Would you like to volunteer as an interpreter? Please see flyer below.
Bayyari's Food Bank will be held tomorrow, Tuesday, February 23rd @ 3:30pm. El Banco de Alimentos de Bayyari se llevará a cabo mañana martes 23 de febrero a las 3:30 pm.

This week has been a challenging week on many fronts but there has also been a lot of good! Let's give a shout out to the over 150 custodial and maintenance staff who worked around the clock to keep our buildings in top shape!They worked on frozen pipes, clearing parking lots and sidewalks, plowed snow and maintained the HVAC units. Let's give a shout out to the Principals and teachers from each building who worked to connect with each family ensuring safety and educational enrichment during this time. We had some fun this week! We loved seeing all the pictures of how families combined education with snow time fun. Tomorrow, Friday February 19 will be a remote teaching and learning day. Let's finish this week strong, with positive energy and take the time to say thank you and encouraging words to each other. This is what make our community great! Esta semana ha sido una semana desafiante en muchos frentes, ¡pero también ha sido muy bueno! ¡Demos un saludo a los más de 150 conserjes y personal de mantenimiento que trabajaron las veinticuatro horas del día para mantener nuestros edificios en óptimas condiciones! Trabajaron en tuberías congeladas, despejaron estacionamientos y aceras, quitaron nieve y mantuvieron las unidades de HVAC. Demos un saludo a los directores y maestros de cada edificio que trabajaron para conectarse con cada familia para garantizar la seguridad y el enriquecimiento educativo durante este tiempo. ¡Nos divertimos un poco esta semana! Nos encantó ver todas las imágenes de cómo las familias combinaban la educación con la diversión en la nieve. Mañana viernes 19 de febrero será un día de enseñanza y aprendizaje a distancia. Terminemos esta semana fuertes, con energía positiva y tomémonos el tiempo para agradecer y animarnos mutuamente. ¡Esto es lo que hace que nuestra comunidad sea excelente!